In a four-story building guarded by men with Kalashnikov rifles near a dusty intersection in Kabul, Felix von Schubert speaks enthusiastically about the investing opportunities in Afghanistan, where U.S. troops have been locked in a bloody conflict for 17 years.
During a July visit, he met with executives of the Insurance Corporation of Afghanistan (ICA), a provider of life insurance and corporate terrorism coverage that received a $5 million investment earlier this year from InFrontier, a private equity fund co-founded by von Schubert. "Afghanistan has a terrible reputation," says the 46-year-old ex-JPMorgan Chase & Co. banker. Yet "there are really good opportunities for companies to grow."
InFrontier now has a $30 million portfolio focused on Afghanistan, making von Schubert one of the most audacious contrarians in private equity investing. Where others see chaos, he sees an economic turnaround play. Look beyond the headlines of suicide bombing attacks and bloodshed, he says, and you'll see the outlines of a gradual economic recovery.
When the German native isn't on the ground in Afghanistan, you'll find von Schubert about 4,660 miles (7,500 kilometers) away in London, where he shares space in a bland-looking office across the street from Standard Chartered Plc's headquarters. Von Schubert came down to meet a visitor in the lobby, when the building's receptionist struggled to recognize the fund's name.
Five years ago, says von Schubert, he and his business partner, Benj Conway, struggled to sell institutional investors on their plans to invest in a country that's been rocked by political instability and conflict for decades.
"One of the very large institutional investors told us 'Afghanistan? Over my dead body,''' he says. "We said, OK fine let's prove them wrong." They scraped together their own cash and some money from individual investors and made two deals, investments in a pharmacy chain and LPG import business, of around $2 million each.
They persevered and InFrontier's first $22 million fund closed in 2016 with investments from two state-backed funds -- the U.K.'s CDC Group and the Dutch Good Growth Fund. Von Schubert says it took two and a half years to convince the CDC. But it has paved the way for other institutional investors to dip their toes.
Afghan Bull
Von Schubert's upbeat assessment about the future of Afghanistan is at odds with many U.S. military generals and emerging market investors alike. A resurgent Taliban has turned a grinding conflict into a stalemate, and the Islamic State's local affiliate has extended its reach across the country.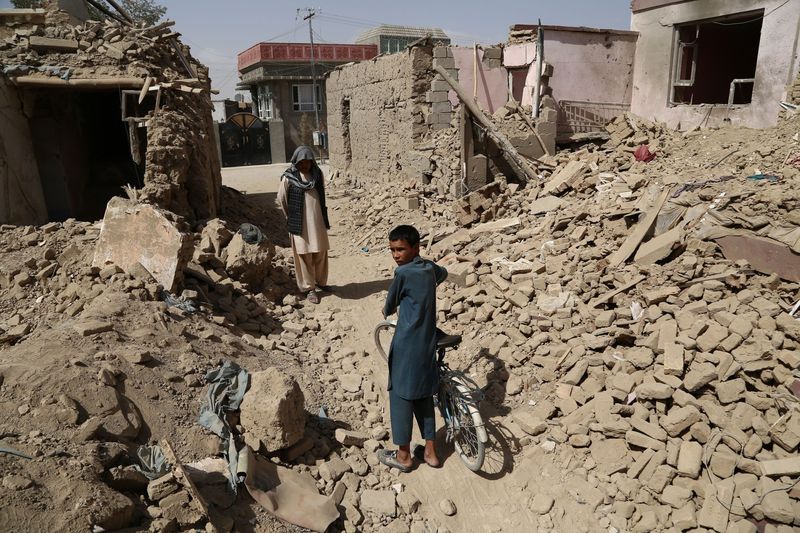 Afghan residents walk near destroyed houses in Ghazni on Aug. 16. Photographer: Zakeria Hashimi/AFP via Getty Images
Beyond the stagnant waste and corruption, getting your money out of Afghanistan is an issue in a country with undeveloped financial markets. "The overriding concern, of course, is law and order and the fact that the country has a great deal of civil unrest,'' says Mark Mobius, 82, a long-time emerging market investor and founder of Mobius Capital Partners.
U.S. President Donald Trump sent more troops to Afghanistan last year in an attempt to shore up the deteriorating situation. He's the third American leader to wrestle with the quandary of how to stabilize and ultimately vacate Afghanistan without leaving behind chaos and a sanctuary for terror groups.
'Real Opportunities'
Yet in the midst of the violence there are signs of economic promise. Construction has finally started on a regional gas pipeline, and rail links to China have been established. Last year, Trump discussed opportunities by phone with Afghan President Ashraf Ghani to extract Afghan mineral deposits that American officials in 2010 estimated could be worth $1 trillion.
"From a macro perspective, there are real opportunities," says Chirantan Patnaik, an investment manager at CDC. "It has a fast-growing demographic profile, lots of untapped natural resources valued between $900 billion to $3 trillion and the potential to take advantage of import substitution."
A World Bank report last month said Afghanistan's economy is struggling following political instability after the 2014 election and the economic shock of the large withdrawal of soldiers after the 2009 troop surge ordered by former U.S. President Barack Obama. Growth is projected at 2.4 percent in 2018, down from 2.7 percent in 2017, it said.
InFrontier is gearing up for more investments in Afghanistan and the region after investing in the insurance firm, a Kabul-based medical chain called 786 Pharmacy, and Afghanistan's leading broadcasting satellite company, Alef Technology. "With the right attention, with more capital and additional management that we're bringing in, they could grow substantially," says von Schubert.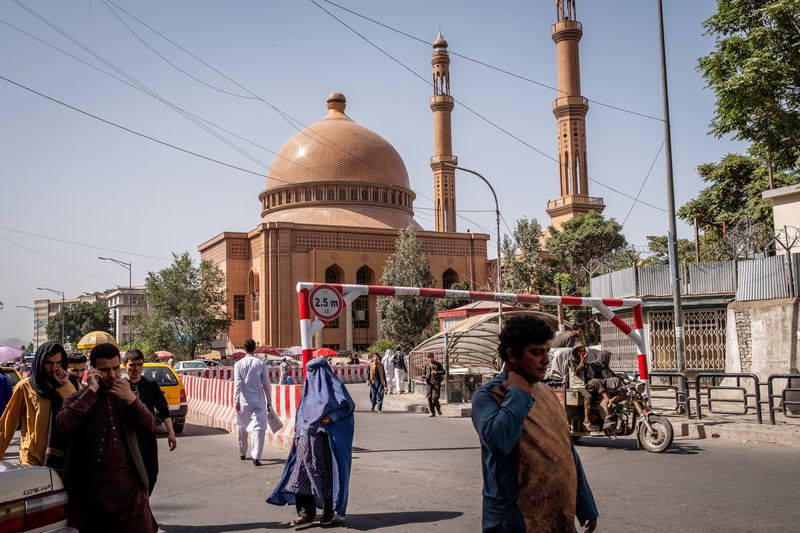 Pedestrians walk past the Abdul Rahman Mosque in Kabul in July 2018. Photographer: Jim Huylebroek/Bloomberg
Resurgent Taliban
Afghan forces, meanwhile, are continuing to lose ground even as the U.S. takes tentative steps toward peace talks with the Taliban, the Congress-mandated Special Inspector General for Afghanistan Reconstruction (SIGAR) said in a report released in July.
The Taliban controls or contests nearly half the country, more than any time since American forces toppled the group in 2001. Since then, more than 300,000 people are estimated to have lost their lives in Afghanistan and neighboring Pakistan, which has been accused of granting safe haven to militants fighting the U.S.-supported government in Kabul -- a charge officials in Islamabad deny.
And there's the widespread graft. "The outlook for small businesses here is pretty bad given the terrible insecurity and corruption,'' says Ahmad Massoud, an economics professor at Kabul University. Bribes are routine to win contracts and small businesses often can't afford to pay off predatory officials, he said.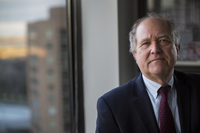 So far U.S.-led efforts to bring stability and reconstruction to Afghanistan have largely failed. Addressing an audience at London's Chatham House in December, the head of SIGAR, John Sopko, delivered a blistering critique of U.S.-led efforts to rebuild Afghanistan.
He cited $448 million worth of aircraft purchased for the Afghans that couldn't fly, buildings that the U.S. paid for that melted in the rain and payments to warlords. He could go on. "We actually increased corruption, destabilized the government,'' he says. "We could have actually accomplished more by just burning some of the money instead of actually spending it in Afghanistan.''
Turning Point
Von Schubert started his finance career with JPMorgan in London, before co-founding a private equity firm called Zouk Capital in the late-1990s that focused on environmental technologies. He sold his stake in the company some 15 years later. In 2012 he met Conway, who had owned an award-winning restaurant group in Malaysia before returning to the U.K. A year later they incorporated InFrontier.
"I turned 40, that's a big turning point, a mid-life crisis I would guess,'' von Schubert jokes. "We also wanted to go into a market that is perceived to be very difficult, where there's no competition.''
They went to Kabul, a city where at the start of the U.S. invasion had very few properly paved roads. The Afghan capital is now snarled with traffic snaking past high-rise buildings. Its urban center is dotted with blast walls and heavy security. American diplomats shuttle from the airport to the heavily fortified embassy by helicopter rather than risk road travel.
Von Schubert speaks with measured caution. He declines to comment on his security arrangements and the fund's performance in great detail, beyond a "double-digit'' return they made from one of their energy company investments.
He is also keen to play down Afghanistan's violence. Von Schubert says the bombings in Kabul aren't really affecting business, but it certainly does deter outside investors. The father of three says his family and friends have voiced concern.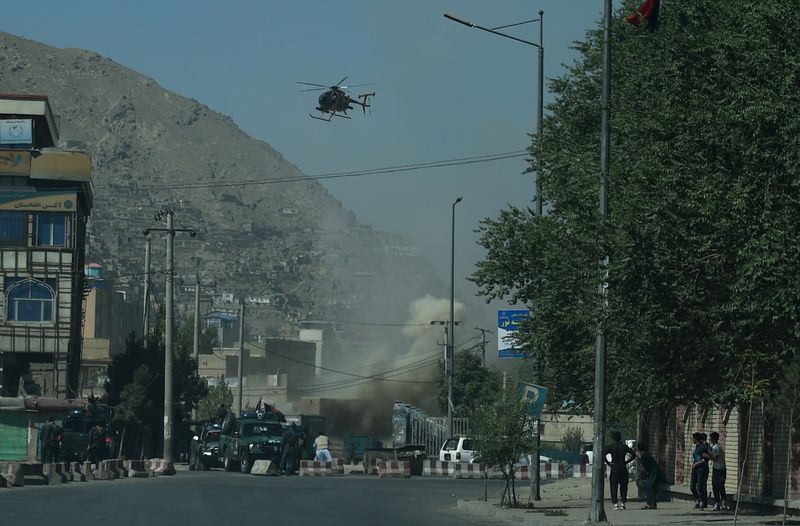 Clashes between Afghan security forces and militants in Kabul on Aug. 21. Photographer: Wakil Kohsar/AFP via Getty Images
"Everybody worries when you travel in more dangerous places than your own country,'' he says. But Afghan security is "continuing to improve and I think the government is taking the right steps.''
Peace Talks
Hopes for a negotiated end to the war have indeed risen in recent months. Afghan President Ghani said in July that peace is "now more possible" than at any time in the past. There was a rare but short-lived ceasefire in June when Taliban fighters appeared in the streets of some cities, greeting and hugging locals.
The unprecedented goodwill didn't last long and fighting continued. But Alice Wells, the top U.S. diplomat for South Asia, led a delegation in July that met with Taliban officials in Doha, the site of past talks with Afghan and American officials.
In one sense, Afghanistan is open for business. There are no capital restrictions and foreigners can own local companies outright.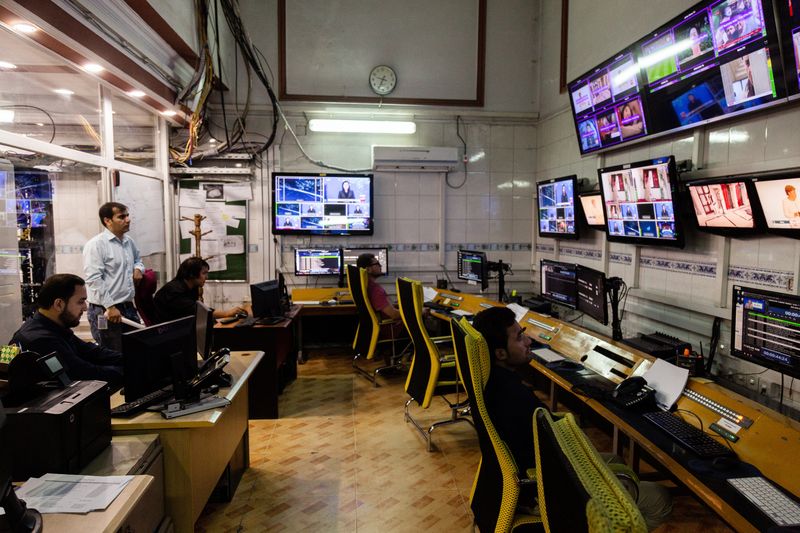 An operations room at the Alef Technology office in Kabul. Photographer: Jim Huylebroek/Bloomberg
One early investment, some $3 million, was in Dubai-based Alef Technology, which has prospered supplying equity and signaling systems to Afghanistan's emerging broadcasting industry. Around 35 Afghan staff work from the company's heavily-guarded compound in Kabul's elite Wazir Akbar Khan district which also houses diplomatic missions.
"Technology businesses are growing'' in Afghanistan, which lags the region, Ahmad Seayar Ahadzada, commercial director at Alef, says during a lunch meeting at his office.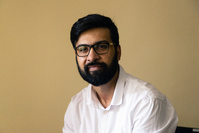 Kevin Hartnett, chief operating officer at ICA, the insurer InFrontier has invested in, shrugs off the blasts in Kabul. "Yes it's a problem and obviously not going away very soon," says the 65-year-old British citizen. "This part of town is quite quiet.''
Demand has increased for insurance policies that protect against political risk, terrorism and sabotage. It's "becoming a very prominent class of business,'' Hartnett says.
ICA has a gross revenue of $10 million and employs 81 staff. With a 70 percent market share, it's now looking to expand across central Asia. InFrontier will also continue to make bold investments in a country whose own future is on the line.
"You can make money, and that is more than most investors think is possible in a country like Afghanistan,'' says von Schubert. "We want to be the case study that this is possible.''